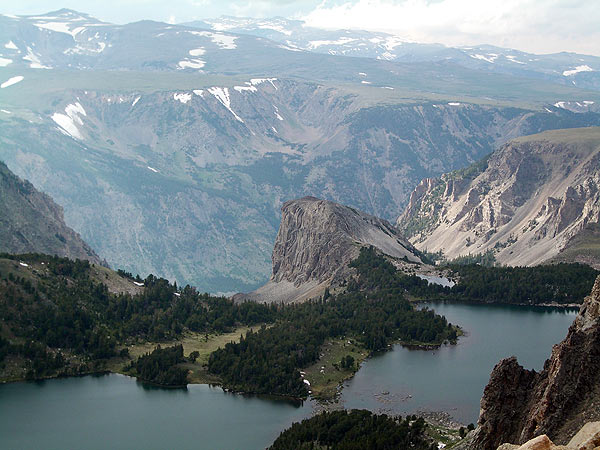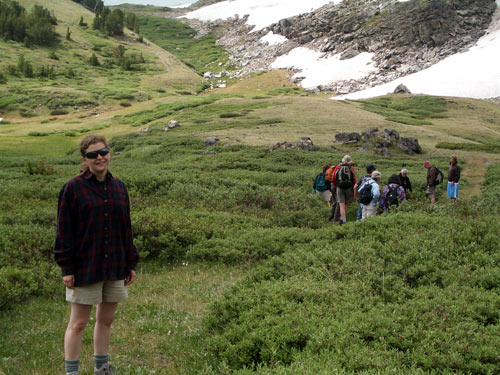 Bernie is also president of the Billings chapter of the Montana Wilderness Association, and we escorted him on an MWA-led hike to Line Creek Plateau. Alissa and I were "assistant leaders," and we did a GREAT job of bringing up the rear, if I do say so myself. We met up with a group of 12 or so hikers, and started up in the Beartooth pass, taking a pretty easy ramble accross the plateau over to Wyoming Creek, then up the creek a bit and around a ways.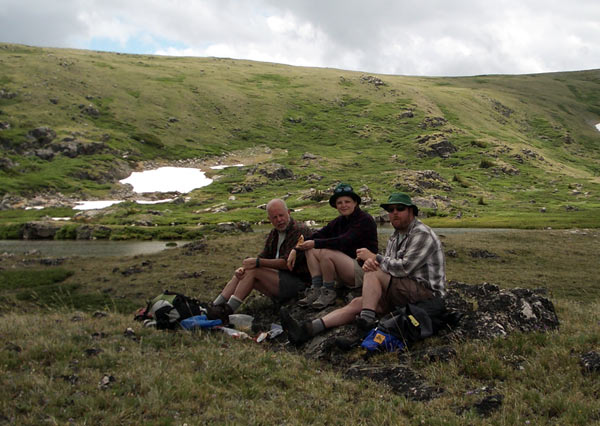 The fearless hike-leaders have lunch on Line Creek Plateau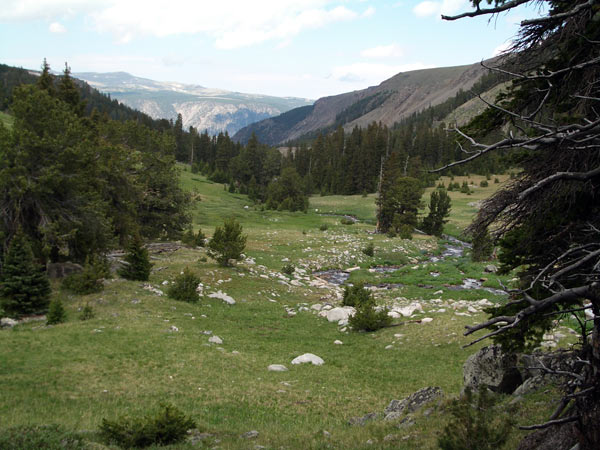 This is a pleasant little valley on the plateau that provides enough shelter for a few trees to grow. We were up there in Wildflower season, and spent lots of time looking at and identifing wildflowers (see
). I love those forget-me-nots!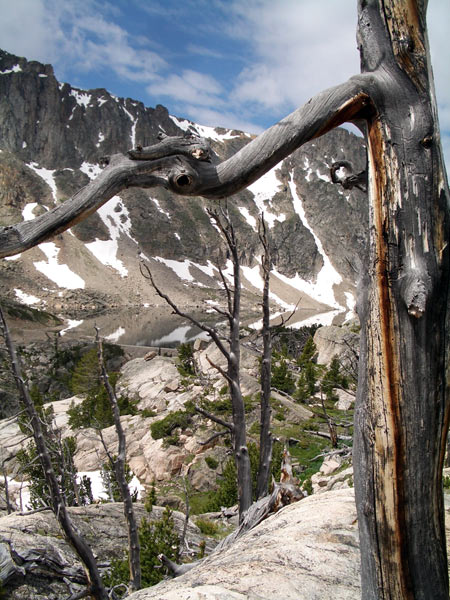 A few days later we drove up the Rock Creek Drainage to hike up to Glacier Lake. This is a very popular hiking spot, about a 2-mile moderately steep climb up to a really beautiful Alpine lake, the largest in the Rock Creek System.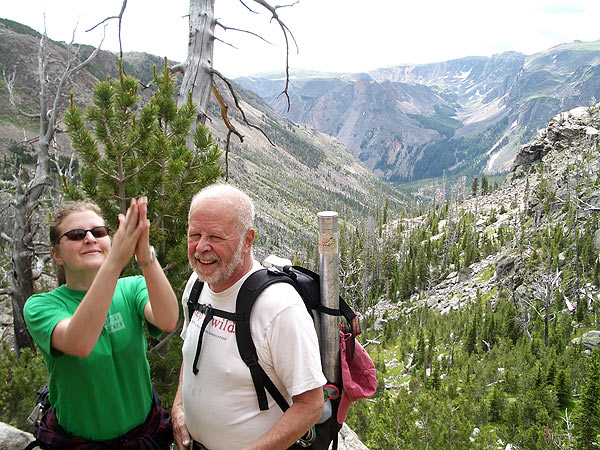 Alissa prays that I will catch fish and shut up about it...and I did (see
).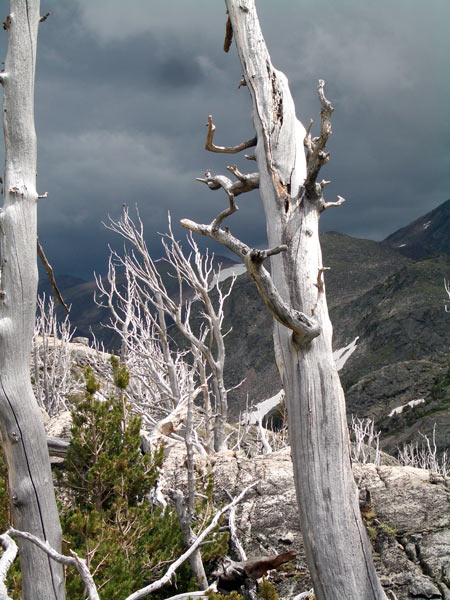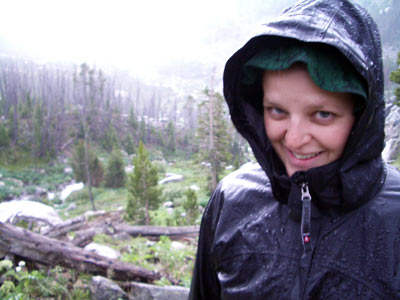 Anyone who has spent about 1 day in the mountains here should know, bring your rain gear! Its pretty reliable to expect afternoon thunderstorms every day. Rain is no biggie, but when that lighting pops over your head on a narrow trail, it will wake you up!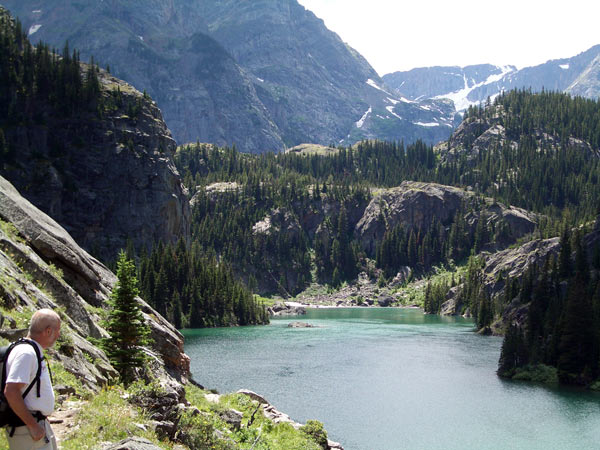 So, one nice Friday, Bernie and I took a hike up to Rimrock Lake, in search of Big Fishes....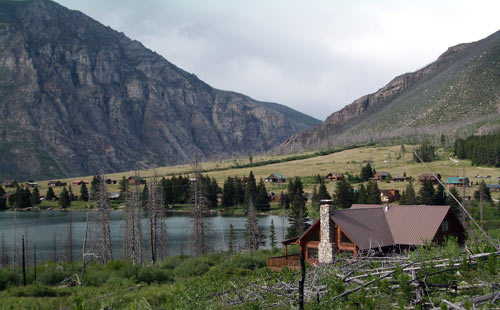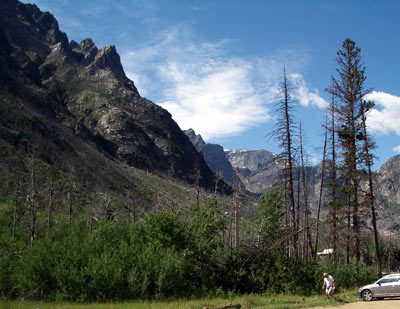 This was a really nice hike, and about all I would want to do in one day. We drove way up the East Rosebud drainage to the East Rosebud trailhead at the little village of Alpine, which is on East Rosebud Lake. Even the trailhead is gorgeous!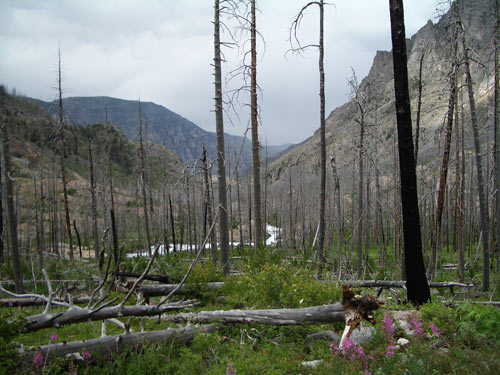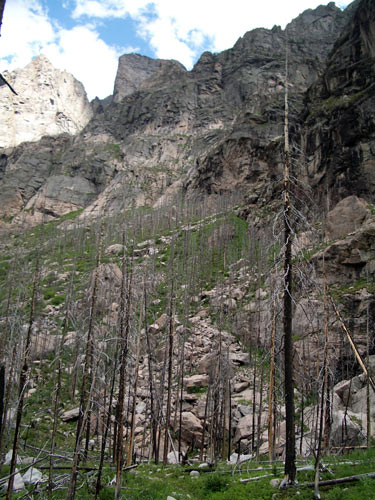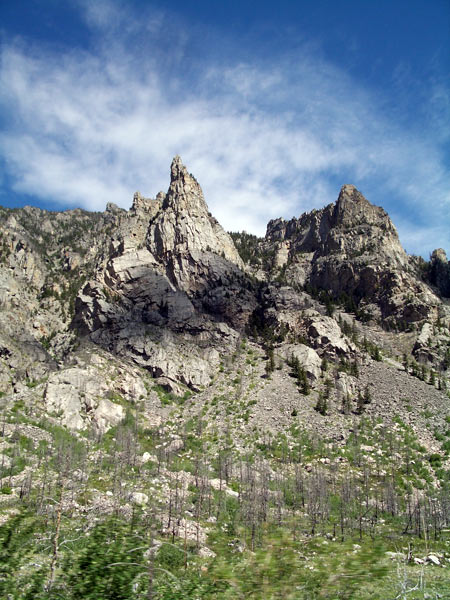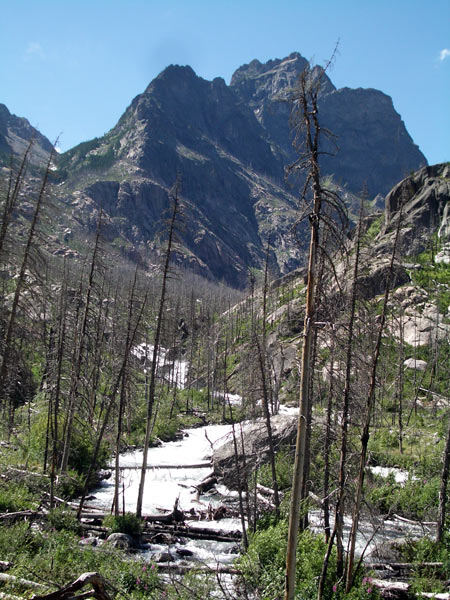 There was a big fire in this section 15 or so years ago and basically everything burned, including some of the houses at Alpine. There are downed and burned trees everywhere, and what was apparently once a nice lush shady hike is now pretty hot and exposed. It's starkness is still pretty cool and it makes for some open and expansive views.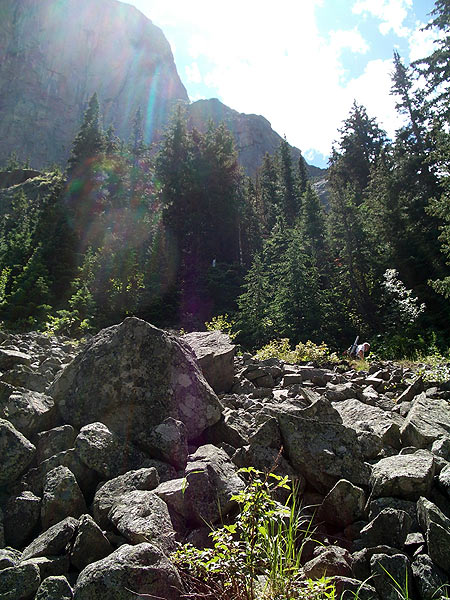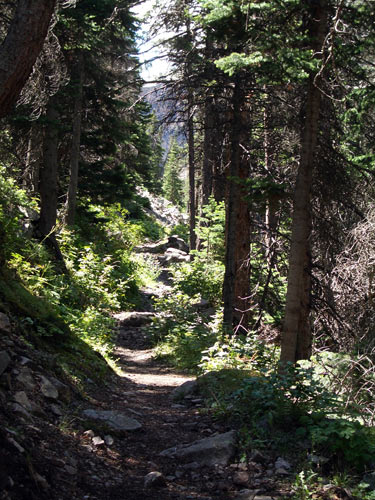 This short section that did't get burned shows what it used to look like.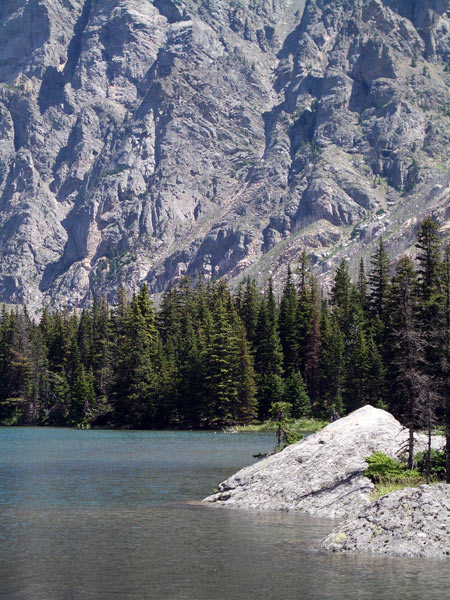 We hiked in to Elk Lake where we had some lunch. It's a pretty popular day hike, and a nice place. It is about half way to Rimrock, but the 2nd half seemed quite a bit steeper, IMHO...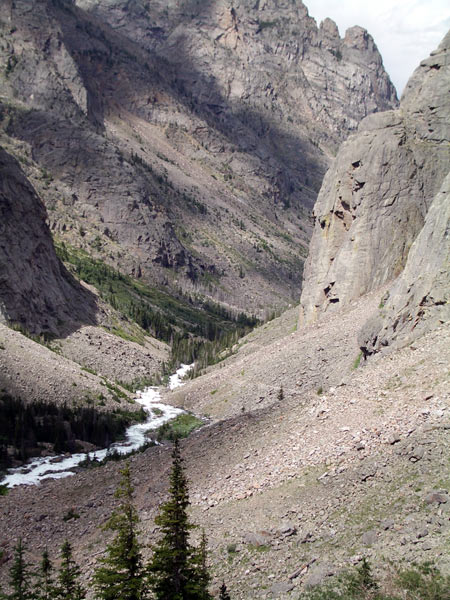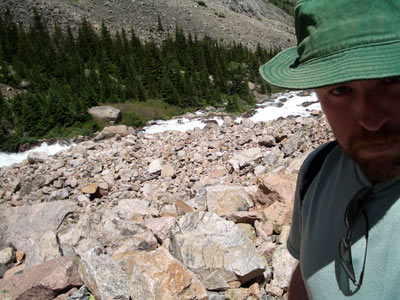 The climb from Elk Lake to Rimrock Lake was long and steady with switch back after switch back. The landscape was dry and hot, under a beating sun. The slopes were covered with hot rocks with an impressive angle of repose. Here I am looking tired and hot, thanking god for the shade under my hat.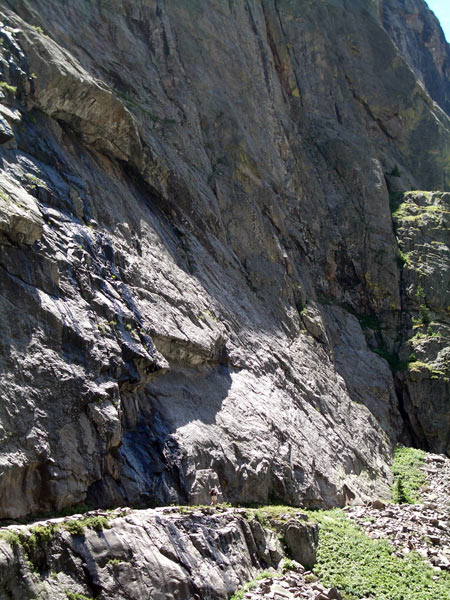 Lookie there at that big rock face. I thought that was cool. Lookie closer and you can see a tiny Bernie making his way across it. And then, finally, a bigger Bernie, almost to the top!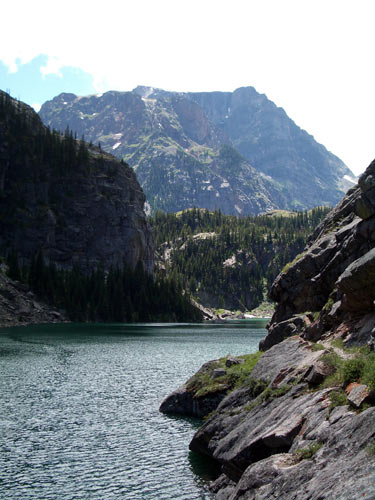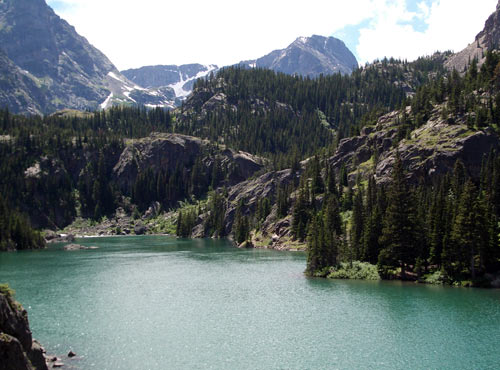 So, we got up to the lake, and it was gorgeous, as you can see!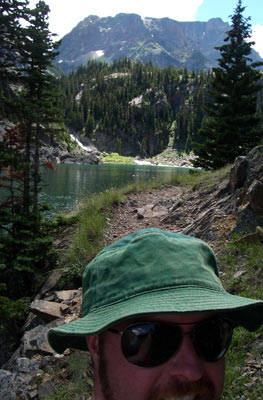 Despite being tired, I didn't waste anytime gearing up the fly rod and looking for those big fishes. I put on a couple nymphs and started crawling them around on what seemed like a very attractive rocky bank, but no luck. Time passed too quickly and we had to start back to get down. There was thunder in the distance and clouds moving in, too. Of course, just as we were leaving I spotted 4 goodly sized fish rising right in casting distance from the shore. The fish were taunting me! I will be back for you fishes!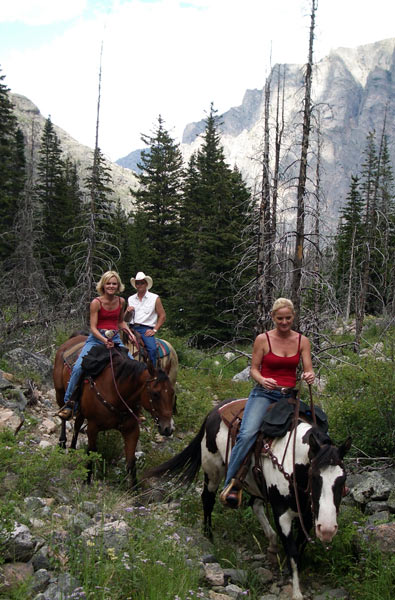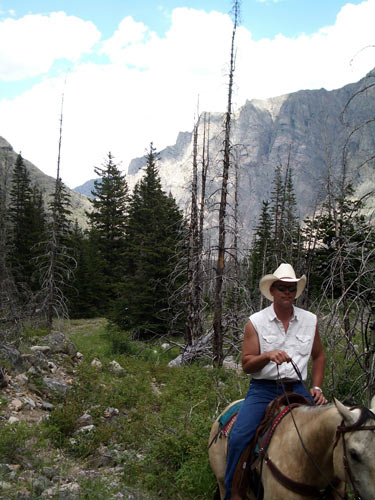 On the way down we passed these photogenic cow-pokes out for an afternoon ride. Watch out for steamy horse piles on the trail!